Millions of American homes use the popular weed killer Roundup. The primary ingredient in Roundup is glyphosate. Monsanto, an agrochemical company, developed glyphosate in 1970 as a chemical herbicide used to kill weeds and grass and began marketing and selling Roundup to American consumers in 1973.
In 2015, after gathering evidence from numerous studies on glyphosate, the World Health Organization's International Agency for Research on Cancer classified the chemical as a "probable carcinogen," with an indisputable link between glyphosate and non-Hodgkin's lymphoma, a type of cancer that starts in the lymphatic system (part of the immune and circulatory systems). This recent classification of glyphosate as a carcinogen or cancer-causing agent has opened a floodgate of lawsuits against Monsanto and the Bayer Company, which acquired Monsanto in 2018.
CAMG, Inc. is the nation's largest consumer attorney marketing group, offering an extensive range of media tools to target clients for law firms. Our team at CAMG has led thousands of mass tort litigation marketing campaigns throughout the country, with comprehensive services to help you through the entire process of finding and retaining clients. As a result, we are uniquely qualified to help you locate and target the best leads having claims for damages after using Roundup.
After the International Agency for Research on Cancer classified glyphosate as a probable carcinogen, thousands of consumers filed lawsuits claiming that Monsanto failed to warn them about the glyphosate in Roundup and the risk of contracting cancer. More than 300 of the lawsuits were consolidated into a multidistrict litigation (MDL) early in the litigation. As of 2019, more than 42,000 plaintiffs claimed that Roundup caused their cancer or other injuries and damages. Currently, just under 4,000 cases are still pending in the MDL in the U.S. District Court of the Northern District of California. 
In 2018, German pharmaceutical company Bayer acquired Monsanto, inheriting the Roundup litigation. 
Roundup Litigation Status & Recent Favorable Rulings
In numerous lawsuits, plaintiffs have claimed that glyphosate in Roundup caused their non-Hodgkin's lymphoma. Juries have awarded massive damages to plaintiffs in at least three cases in California.
In August 2018, a California jury awarded Dewayne Johnson $289 million in his lawsuit against Monsanto. Johnson, who had sprayed Roundup for hours every day for years at his job as a pest control manager for a San Francisco Bay Area school district, claimed that Roundup caused his non-Hodgkin's lymphoma, which left him terminally ill. The trial judge later reduced the award to $78 million. Johnson's Roundup case was the first to go to trial because California law allows expedited trials for terminally ill plaintiffs. The court upheld Johnson's jury award on appeal.
In March 2019, a jury in a California federal court awarded $75 million in punitive damages and $5 million in compensatory damages to Edwin Hardeman. He claimed he contracted non-Hodgkin's lymphoma after using Roundup on his 56-acre property for more than 20 years. The trial judge later reduced the punitive damages to $20 million. In May 2021, the Ninth Circuit Court of Appeals upheld the verdict.
In May 2019, a third California jury awarded $2 billion in damages to a married couple, Avla and Alberta Pilliod, who both contracted non-Hodgkin's lymphoma after spraying Roundup on their property for 35 years without wearing gloves or any other protective gear. The judge in the case reduced the jury's award to $86.7 million. In August 2021, a California appeals court upheld the jury verdict. Bayer plans to appeal the verdict to the U.S. Supreme Court.
In July 2021, Bayer predicted that its costs in defending lawsuits over Roundup claims would increase by $4.5 billion, more than it had previously anticipated. Bayer also announced that it was increasing the $11.6 billion that it had already pledged to use for litigation costs over the Roundup claims. 
Additionally, Bayer announced plans to replace glyphosate in Roundup and other weed killers sold to residential consumers, but it'll continue using glyphosate in products sold to farmers.
Potential Injuries and Legal Claims Arising from Roundup
Roundup lawsuits include the following claims:
Product liability and design defects

Failure to warn claims

Negligence claims
These claims arise out of the plaintiffs' allegations that the glyphosate in Roundup caused their sometimes deadly cancers.
How can I find qualified Roundup leads?
Given the discoveries around the dangers of Roundup, we can expect to see a growing number of lawsuits against the popular weed killer's manufacturer. Those injured by Roundup must understand their legal rights and have access to personal injury law firms to help them assert their claims. We help connect law firms to highly qualified leads so that you can provide them with legal advice and representation throughout the litigation.
CAMG has all the resources you'll need to target and market to prospective clients for your mass tort litigation involving Roundup. Our in-house creative team can work with you to create a strong call to action for prospective clients. At the same time, our strategic media buying will position your message to the right audience, equating to fewer missed targets. Additionally, we offer support services, from medical record retrievals to contracts to telemarketing. We provide our services either bundled or a la carte, depending on your firm's needs.
Contact CAMG now for all your Roundup litigation marketing needs.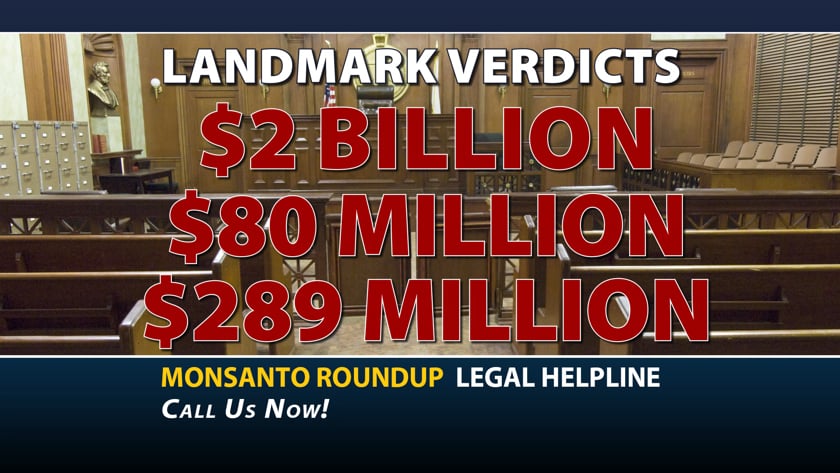 CAMG has thousands of spots and infomercials that can be branded for your firm. Reach out to us for the latest creative offline and online examples*.
*Examples shown are not always current examples.
* These fields are required.
The CAMG Legal Marketing Index®. Significantly increase your marketing success, on us.
CAMG's Legal Marketing Index® offers unprecedented reporting and comprehensive analysis of real-time data. Because more intelligent marketing decisions mean a better ROI.