Talcum Powder Lawsuits Are On The Rise
Add a header to begin generating the table of contents
Personal care products produced by large, well-known manufacturers are part of our everyday lives. From cosmetics to baby products, consumers spend billions of dollars on these items each year in the U.S. alone. With lucrative revenue streams from top-selling brands, it's no surprise that big industry players will do whatever it takes to protect themselves from lawsuits alleging unsafe production processes and toxic ingredients.
One of the most prominent cases currently under litigation focuses on the potential dangers of talcum powder, made from the mineral talc. Research has found that asbestos, a highly toxic substance found close to talc mines, can easily contaminate talc during the extraction process if not appropriately mined. Talcum powder is a pervasive ingredient in personal care products, including moisture-wicking formulas standard in body powders and makeup. One of the most infamous talcum powder-containing products facing scrutiny is Johnson & Johnson's Baby Powder.
Highlighted initially in a 2018 exposé by Reuters, Johnson & Johnson allegedly knew about the risk of talcum powder over 40 years ago, including the possible link to ovarian cancer, and failed to report these findings to the FDA. During the 1970s, the FDA was researching the presence of asbestos in talc products in an effort to monitor the safety of consumer goods. Johnson & Johnson failed to share three reports from three separate labs between 1972 to 1975 that found notable amounts of asbestos in their talc products. The reports found that ten percent of all ovarian cancer cells contained talc. To shield themselves from legal action, consumer fallout, and lost sales, Johnson & Johnson ignored the reports and continued manufacturing and selling talc-based products, including their top-selling baby powder, which is 99% talc.
Some makeup companies are also facing possible ligation due to suspicions of tainted talcum powder. City Color, from parent company Beauty Plus Global Inc., has recalled bronzers, blush, and eye shadows. The FDA also published a public notification regarding a makeup set produced by teen accessory brand Claire's and found to have trace amounts of asbestos.
While major manufacturers like Johnson & Johnson and Beauty Plus Global Inc. face millions of dollars in settlements, consumers demand answers and accountability. As a result, there is now a mass tort seeking compensation for individuals affected by asbestos-tainted talcum powder.
Noteworthy cases among talcum powder lawsuits
Thousands of lawsuits have been filed over the risk of ovarian cancer and mesothelioma resulting from tainted talcum powder. With evidence that the company was aware of the dangers, Johnson & Johnson continues to be the primary target in many cases, although other manufacturers of personal care and industrial products are also being held accountable, including Vanderbilt Minerals LLC and Colgate-Palmolive.
A case against Vanderbilt Minerals LLC in 2018 sought $11.6 million in damages after a tile worker received a diagnosis of mesothelioma resulting from contaminated talc in the company's industrial products. He argued that the company knew of the risks and withheld this information from workers. Vanderbilt Minerals LLC eventually settled the case privately.
In 2019, a California woman was awarded $9.6 million after a jury agreed that her mesothelioma diagnosis was linked to her use of Johnson & Johnson Baby Powder and Colgate-Palmolive's Cashmere Bouquet.
January 2020 marked the first time Johnson & Johnson settled an ovarian cancer lawsuit rather than fighting it. At the time, it was facing thousands of similar lawsuits. The $2 million settlement went to a woman from Oakland, California, who was diagnosed with mesothelioma and given only a few years to live.
In June 2020, a 2018 verdict on behalf of 22 women diagnosed with ovarian cancer after using Johnson & Johnson Baby Powder was upheld. The company was ordered to pay $2.1 billion in damages, which was adjusted down from over $4 billion awarded in the 2018 verdict. Johnson & Johnson sought to have the supreme court review the decision in May 2021, but they were turned down.
In October 2020, the first mass settlement by Johnson & Johnson resulted in a payout of over $100 million to cover 1,000 lawsuits. Johnson & Johnson took care to note that the settlements were not an admission of guilt, reiterating that their baby powder products are safe and asbestos-free.
A jury awarded another woman diagnosed with terminal mesothelioma over $26 million after taking Johnson & Johnson to court in August 2021. The woman's claim stemmed from her ongoing use of the company's Baby Powder since she was a child. Lawyers for Johnson & Johnson argued that the woman's cancer was genetic, but the jury found sufficient evidence to support the plaintiff's argument that Johnson & Johnson was responsible.
A new lawsuit making its way through courts filed by the National Council of Negro Women alleges that Johnson & Johnson specifically targeted black women with their baby powder products despite knowing the risks that it posed. The basis of the lawsuit is an internal presentation showing that the company wanted to target "high propensity" customers. At the time, black women accounted for 60% of the baby powder consumer base.
Bracing for additional settlements, Johnson & Johnson has already set aside over $4 billion to cover future damages awarded.
What Plaintiffs' Law Firms Should Know When Litigating Talcum Powder Cases
Johnson & Johnson has pulled talcum powder-based products from the shelves in the United States as of 2020 but continues to sell these products in other countries around the world. Furthermore, many companies are still selling talcum powder-based products long after this information has come to light, adding to the list of companies that could potentially find themselves on the receiving end of a lawsuit.
The past, current, and future potential for talc-based lawsuits is an ongoing fight that will likely result in thousands of cases from consumers affected by these products.
An online search for talcum powder lawsuits shows many law firms joining the battle to project consumer protection rights. If you are a member of a law firm that would like to litigate talc-based cases, it is essential to reach the right client pool to offer your services and demonstrate the value your agency can bring to their suit. The Consumer Attorney Marketing Group (CAMG) is a marketing firm dedicated to supporting law firms. We focus on helping consumer attorneys and law firms connect to the customers who require their service. From local to national advertising across all mediums, CAMG is the perfect partner for law firms of all sizes. To find out more about how we can help you source clients, contact us today.
Which products are currently under recall?
The FDA routinely tests talc-based products for asbestos. Recently, several batches of products made by a variety of manufacturers have been identified as containing traces of asbestos. The agency maintains a list on its website of all products voluntarily recalled by manufacturers due to asbestos contamination, including:
Johnson's Baby Powder Lot No. 22318RB
Beauty Plus Global Inc. City Color Collection Matte Blush (Fuchsia), SKU #849136008807, Lot No. 1605020/PD-840
Beauty Plus Global Inc. City Color Cosmetics Timeless
Beauty Palette, SKU #849136012958, Lot No. 1510068/PD-C864R
Beauty Plus Global Inc. City Color Bronzer (Sunset), SKU #849136016017, Lot No. 160634/PD-P712M
Beauty Plus Global Inc. Beauty Plus Global Inc. City Color Shimmer Bronzer (Caramel), SKU #849136017106, Lot No. 1612112/PD-840
Beauty Plus Global Contour Effects Palette 2, Batch No. S1603002/PD-C1179
Claire's JoJo Siwa Makeup Set, SKU #888711136337, Batch/Lot No. S180109
Claire's Eye Shadows – Batch No/Lot No: 08/17
Claire's Compact Powder – Batch No/Lot No: 07/15
Claire's Contour Palette – Batch No/Lot No: 04/17
Talc is a mineral composed primarily of magnesium, silicon, and oxygen. In its consumer ingredient form, talcum powder reduces moisture and friction. This attribute makes talcum powder a popular ingredient in products designed to keep skin dry and rash-free. It's also common in powdered cosmetics since its anti-moisture properties prevent the product from caking.
Suppliers of talc often find the mineral near sources of asbestos. Asbestos is known to cause a form of cancer known as mesothelioma. When the talc isn't carefully mined, it can become tainted with asbestos, contaminating products that use the ingredient. In addition to mesothelioma, tainted talcum powder applied near the female genital area can also cause higher ovarian cancer risks.
All of the products on the FDA recall list were found to contain trace amounts of asbestos. When asbestos is found in one package of a product, the entire batch goes through a recall to ensure that no other individual packages are available for consumer use. Products contaminated with asbestos that continue to sell in stores and online pose a severe risk to the user's health and can bring a detrimental financial and reputational hit to the companies that make them.
Does talcum powder cause cancer?
The two types of cancer in question regarding exposure to talcum powder are ovarian cancer in women who use the powder near their genital area and miners diagnosed with lung cancer due to exposure while mining talc.
Studies in animals subjected to asbestos-free talcum powder are inconclusive. Some studies in humans have shown a potential increase in cancer risk, though these studies make assumptions based on unscientific data, like the memories of talcum powder usage among participants and an assumption that no asbestos was in the product. Lung cancer studies in miners are similarly complicated since the mineral exists near other carcinogenic minerals such as asbestos.
It would appear that the data remains unclear regarding any concrete link between talcum powder and cancer. However, research continues in this area due to the potential risk of the popular ingredient present in many consumer products.
Company recalls of products contaminated with asbestos include consumer goods that were once available for public use. As a measure of safety, all products under the same batch as the tainted source are subject to the recall, calling for consumers to discontinue use immediately with the availability of a full refund at the expense of the violating company.
On October 18, 2019, Johnson & Johnson announced that it would be pulling a single lot of its talc-based product, Johnson & Johnson's Baby Powder, as a result of a discovery by the FDA that a bottle contained trace amounts of asbestos. The bottle identified included sub-trace levels (less than 0.00002%) of the substance. The company says that the lot was pulled out of an abundance of caution.
The teen accessory brand Claire's also offers a range of cosmetic products to its young consumer base. During a routine check by the FDA, lab analysis found multiple products containing asbestos. The items include eye shadow, compact powder, and a makeup palette. Initially, the company refuted the FDA's claims, insisting that the agency had misidentified the fibers and that the products were asbestos-free. When the FDA continued with their warning, Claire's relented and issued a voluntary recall of the affected lots on March 11, 2019.
After the FDA issued a safety alert on September 6, 2019, recommending that consumers stop using several products made by Beauty Plus Global Inc., the company voluntarily recalled the affected lot numbers. The company found four products to contain the potentially deadly mineral, including a bronzer, shimmer bronzer, beauty palette, and blush.
Identifying tainted talcum powder products will remain an ongoing investigation as consumers demand better transparency from manufacturers and government regulators. Litigating these lawsuits play an essential role in ensuring consumers have the chance to hold violating parties accountable for their actions.
Contact CAMG today for more information on how we can help your law firm market to and acquire talcum powder leads and new clients injured by this popular consumer product.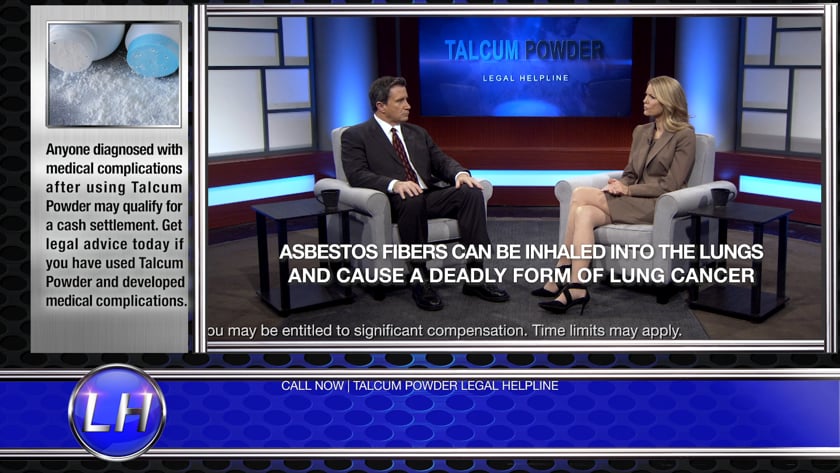 CAMG has thousands of spots and infomercials that can be branded for your firm. Reach out to us for the latest creative offline and online examples*.
*Examples shown are not always current examples.
* These fields are required.
Is your firm in the Top 3 of Google Search?
Our comprehensive SEO program is designed to get you in the Top 3 Google Search results and keep you there. Contact us today for a complimentary audit and review.
Now more than ever, ethics count. "A Lawyer's Ethics Obligations When Participating in a Lead Generation Program," authored by a team of ethics and compliance attorneys, is continuously updated with the latest rules.
Are you looking for data-driven marketing for your law firm?
As a full-service agency, CAMG handles everything from marketing and creative to the support your law firm needs to operate campaigns at the maximum efficiency.
What Our Clients Say

I have worked with CAMG for years. Not only are they great at delivering, but they are great people to work with!
What Our Clients Say

CAMG is always accommodating and willing to work in a way that supports your office as an extension of your team.
What Our Clients Say

Steve Nober and the team at CAMG are responsive, ethical, talented, reasonably priced, and easy to work with!
What Our Clients Say

If you are looking for professional, hardworking people who produce great results and then take you out for a nice dinner, look no further than CAMG
THE NATION'S LARGEST FULLY INTEGRATED
Marketing Agency Dedicated to Law Firms
Television
Radio
Public Relations
Medical Record Retrieval & Review
Search Engine Optimization
Paid Digital
Out of Home
Intake & Contracting Services