Medical records review involves gathering and analyzing an individual's medical records, including hospitalization records, medical history reports, and laboratory results. Attorneys for both plaintiffs and defendants may need to conduct medical record reviews to support or defend clients against various claims. These claims include personal injury claims, mass tort cases, medical malpractice claims, product liability claims, and workers' compensation claims.
The following article explains how medical records reviews can assist you in supporting a variety of healthcare-related causes of action and the benefits of outsourcing the task.
What Do Medical Records Services Include?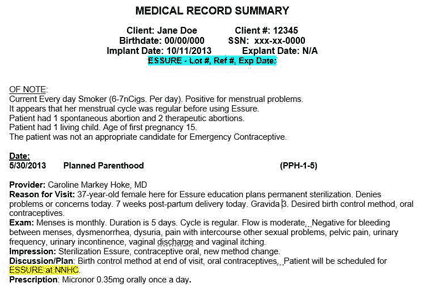 How Much Do Medical Records Review Services Cost?
A thorough review of your client's medical records can vary in cost per provider. Most companies also base their pricing on the specific services requested. Factors influencing your overall cost might include how many documents need reviewing, whether the documents are complete or illegible, and how much organization is needed.
Do I Need a Vendor To Help Review My Clients' Medical Records?
Some law firms have the necessary resources to complete medical records reviews in-house, but we highly recommend that you outsource your medical records reviews to an experienced team, employing medical professionals available for consultation. Also, hiring a vendor to assist with your medical records reviews ensures that your clients' medical files and document analyses are secure and fully compliant with HIPAA standards.
Conducting an effective and thorough medical records review without the help of a medical expert can be extremely difficult for many reasons, including:
Medical records are very voluminous and often unorganized.
Medical expertise is necessary to understand which documents are relevant and how they can apply to asserted claims.
Medical knowledge is needed to understand a patient's complicated course of treatment.
Medical records reviews are incredibly time-consuming.
You may not know which documents are missing that can provide further support to asserted claims.
You may not know how to rule out other possibilities for client injuries to prove causation. 
Reach out to CAMG today to learn how our highly trained staff can assist you with your medical records retrieval and review needs!
Is your firm in the Top 3 of Google Search?
Our comprehensive SEO program is designed to get you in the Top 3 Google Search results and keep you there. Contact us today for a complimentary audit and review.
Now more than ever, ethics count. "A Lawyer's Ethics Obligations When Participating in a Lead Generation Program," authored by a team of ethics and compliance attorneys, is continuously updated with the latest rules.
Are you looking for data-driven marketing for your law firm?
As a full-service agency, CAMG handles everything from marketing and creative to the support your law firm needs to operate campaigns at the maximum efficiency.
What Our Clients Say

I have worked with CAMG for years. Not only are they great at delivering, but they are great people to work with!
What Our Clients Say

CAMG is always accommodating and willing to work in a way that supports your office as an extension of your team.
What Our Clients Say

Steve Nober and the team at CAMG are responsive, ethical, talented, reasonably priced, and easy to work with!
What Our Clients Say

If you are looking for professional, hardworking people who produce great results and then take you out for a nice dinner, look no further than CAMG
What Is Medical Records Review?
The purpose of medical records review is to analyze voluminous patient records within the healthcare system. The examination of these records can help determine things like patient diagnoses, needed medications, medical history, lab testing, physician evaluations, and treatment plans that may be pertinent to support your clients' claims or defense. 
If a firm has adequate resources and access to an individual with medical knowledge, in-house professionals can complete medical records reviews. When that's not feasible, the task of reviewing patients' medical records is incredibly labor-intensive. It often requires consultation with experts in the medical field, such as a nurse or physician. These specialists are used to decipher medical terminology and know where to find meaningful information relevant to your client's lawsuit or insurance claim. 
Outsourcing the review of your medical records to a company trained and equipped to perform the service ensures that qualified legal nurse consultants or physicians adequately review, thoroughly analyze, and efficiently organize your clients' documents.
What Types of Lawsuits Require Medical Records Review Services?
Review of medical records is essential for lawyers to support claims (e.g., insurance claims) involving injured individuals who sought or are seeking medical treatment, including:
Personal Injury Claims: Creating an accurate timeline of the plaintiff's injury is critical to proving an injury sustained in an accident and showing treatment received and future treatment needed. A review of medical records can also help rule out pre-existing conditions to establish damages and causation.
Mass Torts : Medical records review is key to understanding the various complexities of mass torts cases, identifying proof of use, evidence of injury, and any conditions that may limit or prevent recovery.
Medical Malpractice/Negligence Claims: Medical records review is vital for assessing the strengths, weaknesses, and potential value of a malpractice or negligence claim. Analyzing the injured party's health before and after the party filed their medical malpractice claim is crucial to determine whether the doctor, surgeon, or hospital caused the plaintiff's injuries.
Workers' Compensation Claims: A meticulous timeline and detailed medical records analysis are essential for proving whether an injury was work-related, thereby covered covered under an employer's workers' compensation insurance. These records can show if the worker had pre-existing conditions or injuries before the workers' compensation claim, which might contribute to the extent of harm.
Products Liability Claims: A thorough medical records review can help demonstrate whether a plaintiff suffered harm due to the use of a defective product. The documents can show the injured person's health condition before and after using the alleged defective product to determine whether using the product resulted in the patient's injuries or health decline.
How Do You Review and Analyze Medical Records?
Medical records are typically divided into various sections and may be organized differently depending on the hospital's recordkeeping practices. All medical files generally contain the same types of records, chart reviews, and other documents containing patient health data, including:
Attestations
Admissions Records
Patient History and Physical Reports
Physicians' Progress Notes
Consultation Reports
Physicians' Orders
Laboratory Reports
Diagnostic Reports
Anesthesia Records
Operative Reports
Nursing Notes
Nursing Discharge Instructions
Discharge Summaries
Attestations
The attestation is the last document included in the file after the discharge summary. It should contain a summary of the patient's diagnoses without using medical abbreviations and the treating physician's signature.
Before you can review and analyze necessary patient medical records, the first step is medical records retrieval . Similar to the review process, medical records retrieval can be an arduous and time-consuming task due to rigorous HIPAA standards and the number of providers and records within a medical file. Once obtained, there are various steps to review these records accurately and effectively, including:
Organizing and indexing the records: Medical files are often highly disorganized. Organizing them makes locating information quicker and easier and can help you identify what may be missing.
Creating a case chronology: Creating a clear timeline of medical treatment can help determine causation and enables you to avoid mistakes when supporting relevant claims.
Analyzing the records: Reviewing the data based on your clients' claims is critical for determining which information is relevant to your case. Quality assurance is also crucial.
Identifying and retaining qualified experts: Medical records review can help determine if you need expert witness testimony and precisely which information needs further explanation or verification by expert opinion.
Admissions Records
Patient History and Physical Reports
Physicians' Progress Notes
Consultation Reports
Physicians' Orders
Laboratory Reports
Diagnostic Reports
Anesthesia Records
Operative Reports
Nursing Notes
Nursing Discharge Instructions
Discharge Summaries
What Is the Importance of a Medical Records Review?​
You can measure the value of medical records reviews by the benefits they provide in proving various healthcare claims, identifying error patterns in healthcare services or practices, and monitoring the effectiveness of different medications and courses of treatment. Depending on the nature of your case, medical records review analysis services are essential for several reasons:
Enhances safety: Medical records review helps proactively increase patient safety measures. This benefit applies to all medical facilities and services, including hospitals, public health facilities, and private doctors' offices. Besides the more significant public interest component, in-depth medical records review also enhances patient safety on a more personal level. It can provide meaningful information on a patient's progress and inform future decisions about treatment.
Lawsuits: You can quantify the benefit of medical records review for lawsuits by calculating damages and ultimate judgment or settlement amounts. A comprehensive medical records review is an invaluable tool throughout the litigation process. Having the medical file organized and interpreted by a medical consultant enables attorneys to corroborate a plaintiff's injury account and establish potential liability.
Medical claims management: A well-organized medical record helps medical claims management personnel monitor patients' medical history as documented by various providers and ensures timely billing and payment. Tracking medical claims issued to insurance providers and patient invoices and payments is especially important for calculating medical costs that a patient has incurred and aid out-of-pocket, as well as totaling the amount of any insurance subrogation liens.
Why Do Healthcare-Related Lawsuits Need Medical Records Reviews?​
Medical records reviews are vital tools for substantiating health-related claims against a variety of defendants, including:
Hospitals: Having a medical consultant complete a medical records review can help you show that a hospital's malpractice or negligence is potentially responsible for your injuries. An in-depth analysis of lab, diagnostic, and operative reports and nursing notes may reveal issues with provided treatment (or the lack thereof) or medications that support your claims.
Doctors: Accurate medical records reviews are essential to establish medical malpractice or negligence claims against individual providers. Physician progress notes and orders, anesthesia and operative reports, and discharge summaries can be particularly useful in supporting claims alleging a specific doctor is at fault for a patient's sustained injuries.
Manufacturers (product liability claims): Thorough medical records reviews are key components to establish injuries by a potentially faulty product or manufacturing defect. You can show this direct relation through an account of your client's injuries suffered, a timeline of treatments, and notes from their treating physician regarding future prognosis and possible loss of physical capabilities.
Individual Defendants (accidents, etc.): Timelines and admission records can be especially instructive for claims against individual defendants, as they can detail your client's condition upon arrival at the hospital, the hospital staff's first impressions of your client's injuries, and information from emergency medical services, if applicable.
What Role Does a Patient's Medical History Have in a Personal Injury Settlement?
Medical records reviews provide you with organized, easily understandable records of your clients' medical treatments before and during alleged incidents. For personal injury cases, this record is crucial to prove the nature and extent of client injuries, keeping track of treatment received, and documenting the potential for future needed medical care. A detailed and accurate medical chronology can help rule out pre-existing conditions that the defense might argue contributed to your client's injuries. Proving damages and causation are two essential elements of a successful personal injury claim.
Besides establishing the basic elements of a personal injury claim, having a complete and well-analyzed medical record is helpful to assess the potential strengths and weaknesses of your case and determine how much your claim may be worth for settlement purposes. The amount of compensation an injured person can receive depends on:
The nature of their injuries
Costs incurred for treatment from the date of the accident to the present
Any pre-existing conditions and medical history
Lasting effects of their injuries, including necessary future treatment
Pain and suffering due to their injuries
Most importantly, an accurate and detailed medical record can help prove (or disprove) causation. The burden of proof for personal injury cases rests with the plaintiff. Objective evidence, including physician statements, laboratory tests, and radiology films, is much more difficult to refute. Having these documents organized and prepared in indexed files helps corroborate a plaintiff's claims without hesitation or error. Detailed medical chronologies are essential to demonstrate that the plaintiff's condition did not pre-date the incident and clearly outline an injury's continuing nature and course of treatment. Finally, quantifying damages for pain and suffering, loss of quality of life, or even loss of consortium is always a difficult task, but using detailed summaries and medical chronologies can help substantiate these claims.
How Is Meaningful Information Extracted from Medical Records?
If done in-house, legal assistants or document reviewers who often have little understanding of the complex medical processes and terminology will complete the job, sometimes resulting in the oversight of meaningful information. Instead, medical records review companies rely on medical consultants who have extensive knowledge of the healthcare industry, as well as years of experience deciphering medical terminology, procedures, and recordkeeping practices. These professionals are also familiar with state medical records review guidelines .
The process of extracting pertinent information from medical records includes:
Requesting and retrieving medical files: This step may require obtaining records from multiple sources, such as hospital and office databases, and in various formats, including physical (i.e., paper form) records and electronically stored records.
Sorting, organizing, and categorizing records: This organizational process enables reviewers to identify documents that might be missing, discrepancies in physician progress notes, and special records that may need to be requested separately, such as X-ray films and CT scans.
Analyzing the data: Interpreting and analyzing the data is necessary to determine the most relevant information for supporting (or contesting) the plaintiff's claims.
Creating detailed chronologies: As previously mentioned, detailed timelines are most important for pinpointing the date of injury and related treatments, proving that an injury is not a result of a pre-existing condition, and demonstrating an ongoing treatment course to assess damages accurately.
Creating medical case summaries: Alongside chronologies, medical case summaries break down the medical records and define medical terms; analyze and summarize physician and nurse notes, including common medical abbreviations for individuals without a medical background; and detail causation, individual treatment providers, treatment dates, and the patient's prognosis.
How Long Does It Take to Review Medical Records?
How long medical records reviews take depends on the size and complexity of the patient's medical file but can take up to several weeks for a file of around 1,000 pages. Medical records reviews are laborious, but some service providers may offer expedited reviews when courts or other circumstances present tight deadlines.
CAMG is straightforward and transparent with costs, and they provide real time data to maximize your investment.
Timothy Clark , Sanders Phillips Grossman
Their Medical Records services saves us critical time and energy.
Mike McGartland , McGartland Law Firm
Combine this service with some or all of our other services to get your best response...
CAMG offers one of the country's largest inventories of memorable vanity phone numbers and also provides unique tracking numbers to monitor campaign performance to ensure each dollar is spent for efficiency of marketing.
Consumer Attorney Contract Services (CACS) representatives are experts in legal contract acquisitions. We understand the highly competitive legal market and the importance of getting your clients signed.
Find out the importance of medical record review and how CAMG can help your law firm review medical records to substantiate a client's health-related claims.
We developed our monthly Legal Marketing Index™ to share pertinent media industry monitoring data and proprietary response data, as well as analysis for the most practice areas. We also publish our individual Reference Guides for a deeper dive.
Contact Us For Your Customized Medical
Record Services Quote
THE NATION'S LARGEST FULLY INTEGRATED
Marketing Agency Dedicated to Law Firms
Television
Radio
Public Relations
Medical Record Retrieval & Review
Search Engine Optimization
Paid Digital
Out of Home
Intake & Contracting Services